Jaguar EV Charging Guide & FAQs

As an industry leader in terms of developing and engineering cutting-edge electric vehicles, Jaguar EVs remain some of the most efficient and exhilarating vehicles on the road today. No matter if you're interested in saying goodbye to spending time and money at the gas pump or you crave the instantaneous acceleration of an EV – Jaguar electric vehicles are poised and ready to perform.
One of the most common concerns of drivers eager to make the switch to an EV relates to the best ways to charge their vehicles. Whether you need to charge at home, at the office, or on the go – the good news is that there are several excellent charging options available to Jaguar EV owners. You can say goodbye to range anxiety and enjoy the convenience that comes from always having a fully charged battery. Jaguar Easton has created this informative guide that covers all of the various different types of charging stations along with the advantages of each. Let's get started!
How Do You Charge a Jaguar?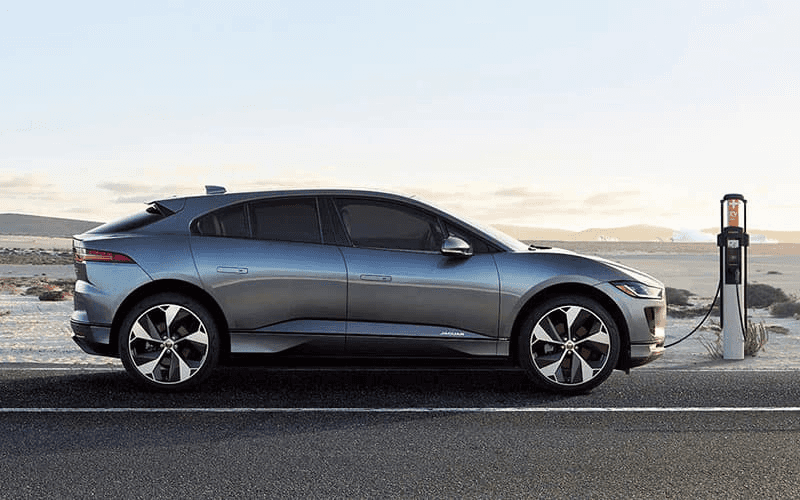 Jaguar Home Charging Capabilities
Range anxiety is a thing of the past as the future of all-electric mobility shines bright thanks to the dynamic lineup of Jaguar EVs. When parked in your driveway, you'll have the capability to recharge using either a standard 120V household outlet or the Jaguar approved home charger and 7 kW single-phase AC on-board charger. Jaguar EVs are designed to accept SAE J1772 Level 2 cables and plugs. If you're interested in installing a dedicated home charger, we can help you locate a qualified installer through Qmerit, which offers a list of certified installers in your area. Use the Jaguar InControl Remote app to set timed charging which allows you to take advantage of the lower electricity rates that many utility companies offer at night.
Jaguar Mobile Charging Capabilities
No matter how many miles away from home your adventures take you, Jaguar offers plenty of charging solutions for use while you're on the go. Due to the self-contained nature of the charge port that's shielded from the elements, you can charge up in harsh weather conditions including rain, snow, and ice. While AC Level 2 charges are most commonly found, Jaguar EVs are compatible with DC Level 3 charging stations. These Level 3 stations offer the quickest way to restore a charge, taking as little as 45 minutes to charge the battery from 0 to 80%. The Jaguar InControl Remote app lets you monitor the charging progress remotely, allowing you to enjoy a meal or explore the area nearby while you charge.
Jaguar has partnered with ChargePoint to help you locate the nearest charging station. Once you sign up for a free ChargePoint account, you can receive a ChargePoint card which helps provide access to hundreds of charging stations across the country. Central Ohio has embraced the future of all-electric travel. In fact, there are over 100 public charging stations in the Greater Columbus area which makes it easy to find a place to charge up locally. Even if you're planning a cross-country road trip, the ever-expanding EV charging network makes it possible to travel from coast to coast using solely electric power. Below you can browse public charging stations, high power stations, and their in-use status all with the click of your mouse. It's never been easier or more convenient to make the switch to all-electric driving with a Jaguar EV.
Loading alternative fueling station locator…
What's the best way to charge my Jaguar EV at home?
• There's no more convenient way to wake up to a fully charged battery than by using a dedicated home charging station in your garage or driveway. Most Jaguar EV models come standard with an 11 kW single-phase AC on-board charger that can easily charge your vehicle overnight. Even if you're away from home, a standard domestic outlet can still provide you with enough power to handle a 30-minute commute.
What equipment do I need to charge my Jaguar?
• Installing a dedicated home charging station is the best way to take advantage of a Jaguar EV's 11 kW single-phase AC on-board charger. You can use the provided charging cable to plug in and charge as necessary if you don't have access to a dedicated charging station. Mobile charging stations have their own dedicated cables that you can use to charge your vehicle, no need to bring your own.
Who can install a home charging station for me?
• Jaguar has partnered with a number of licensed professionals that can install a home charging station for you. It's essential to trust an approved installer due to the high-voltage nature of the work required. Jaguar Easton is here to help you locate a trusted installer and schedule your installation.
Can I use another charging station from a different brand?
• In general, yes! Jaguar EVs come equipped with a J1772 connector for AC charging. This type of connection has become the mainstream version for the majority of EVs on the market. As long as the charging station has this type of connector, you should be able to charge with non-Jaguar branded equipment.
Can I charge my Jaguar when it's raining or snowing?
• Yes! Jaguar EVs feature specialized charging equipment that's been tested and rated for all-weather use. Charging in the rain or snow won't expose you or any bystanders to any sort of danger or electric shock.
I'm leaving my Jaguar EV parked for a few days while I take a vacation. Will I cause any damage by not driving it for an extended period of time?
• Jaguar EV batteries are rated to be left unattended for up to 6 months. It is recommended that they're plugged in at least once a month to preserve their lifespan and performance. If your battery is fully charged prior to leaving it for a few days, you should have no issues.
How can I find charging stations near me?
• Jaguar EVs equipped with navigation can easily search your surroundings for the closest charging station as you drive. You can also use the Remote app to plan your route before hitting the road and choose the route with the most charging stations for maximum peace of mind.