Jaguar Driver Assistance Features Overview

No matter what type of driver you are, staying safe behind the wheel is a universally appreciated. To help keep you protected from the unexpected, Jaguar has developed a series of groundbreaking safety features found throughout the model lineup. Known as Jaguar InControl Driver Assistance, these innovative technologies are engineered to keep the driver alert, aware, and safeguarded from the unknown. To help you gain a better understanding of how these features work and how they can benefit you, Jaguar Easton has assembled this in-depth guide to Jaguar InControl Driver Assistance. Our team is standing by to demonstrate how Jaguar vehicles are among the safest on the road.
Parking Assistance Features
Park Assist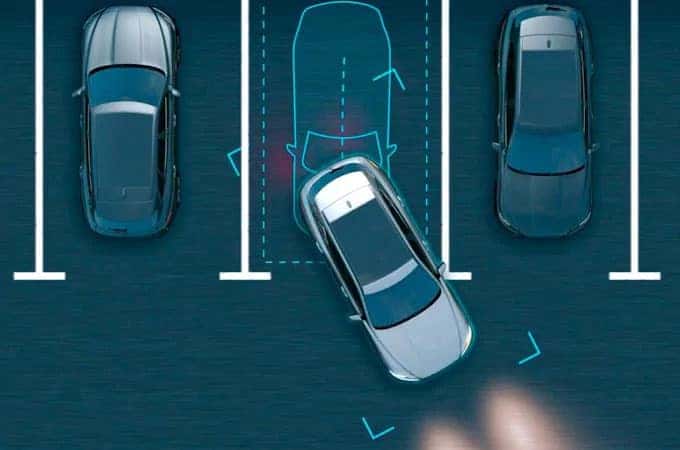 Simplify the parallel or perpendicular process with the innovative Park Assist feature. All you need to do is simply select a gear and control the speed. Notifications and graphics will take care of the rest. This innovative system measures surrounding obstacles to determine the best way to enter the space. At the touch of a button, you can choose which mode you need – Parallel Park, Perpendicular Park or Parking Exit.
Front & Rear Parking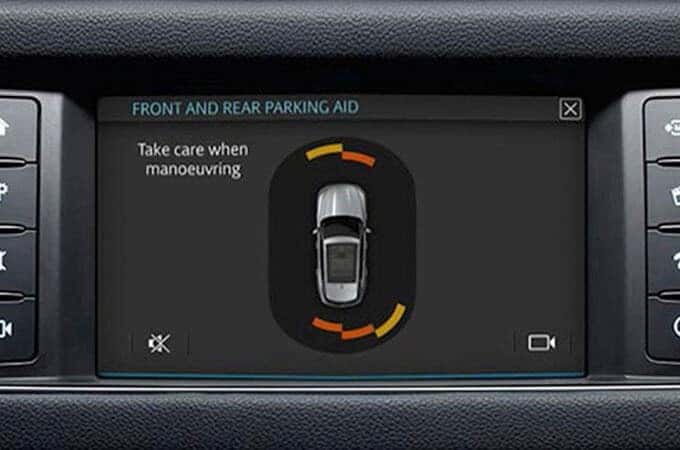 This groundbreaking feature uses sensors mounted at both the front and rear of your Jaguar vehicle. After you put the vehicle into reverse, the touchscreen display inside the cabin will show how close you are to obstacles and provide audio alerts to notify you. Using this feature helps you maneuver in or out of a tight space with greater confidence.
360° Parking Aid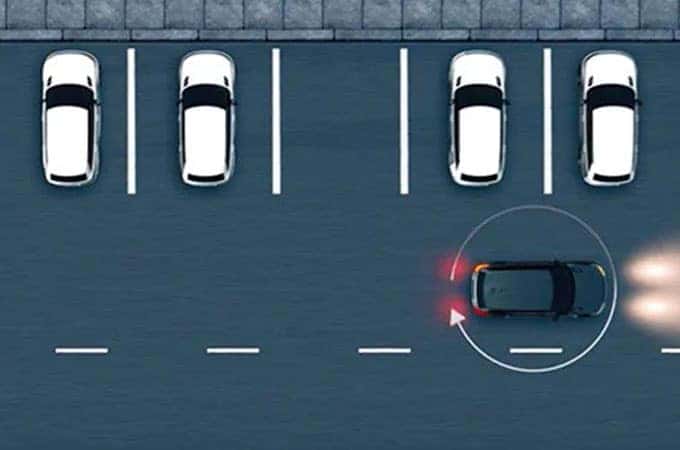 To increase your awareness of what's surrounding your vehicle, drivers can use the impressive 360° Parking Aid feature. You can squeeze into a parking space with minimal effort by using both audible and visual alerts provided by this innovative system.
Rear View Camera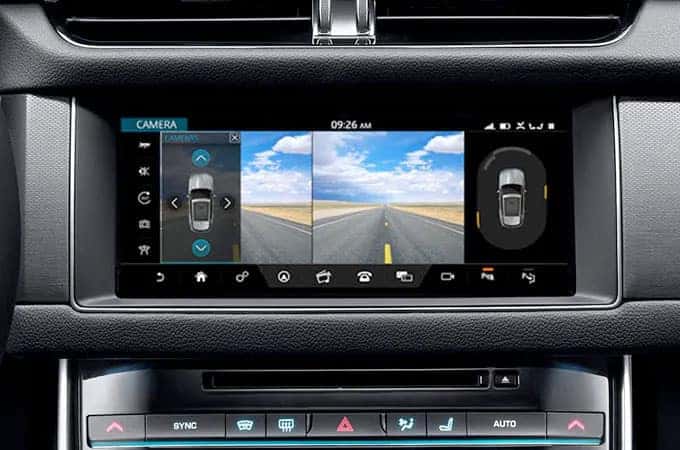 It's nice to have an extra set of eyes looking out for what's behind you. When backing in our out, you'll enjoy suggested guidelines of your intended path displayed directly on the center screen. The Rear View Camera takes the guesswork out of parking your Jaguar.
360° Surround Camera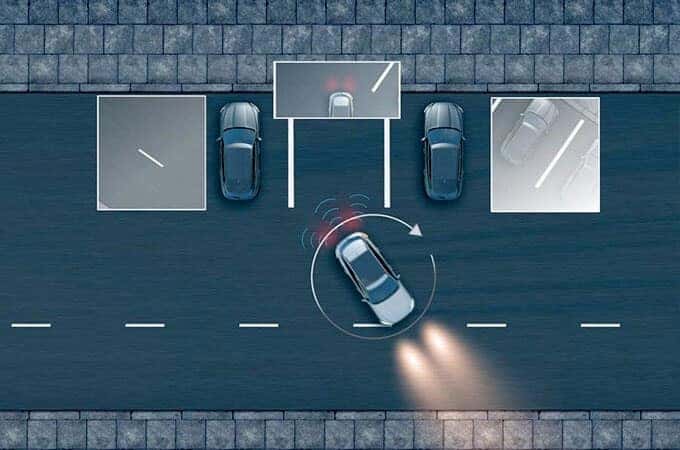 Get a bird's eye look at the surroundings of your vehicle you can use the available 360° Surround Camera. A simple glance at the touchscreen display in front of you reveals exactly how close you are to an obstacle, making it simple to squeeze into a tight space with minimal effort.
Reverse Traffic Detection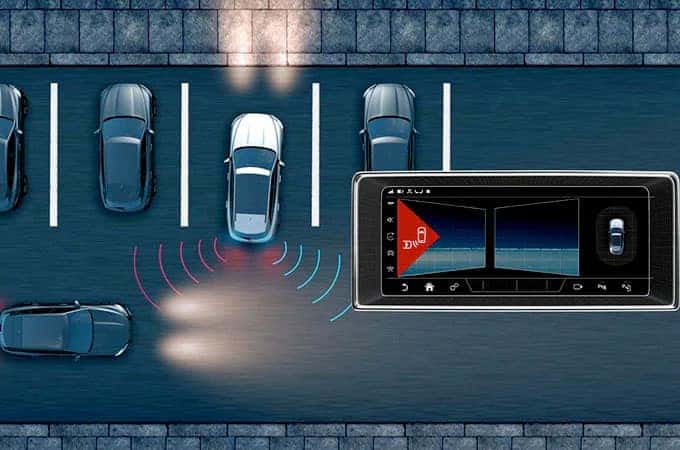 Have you ever found yourself in a situation where you're forced to back out of a parking space and you can't see what's behind you? Even when your view is blocked, Reverse Traffic Detection can alert you of obstacles, hazards, pedestrians, and other vehicles behind you. Audible and visual notifications let you back up safely and with confidence.
Autonomous Emergency Braking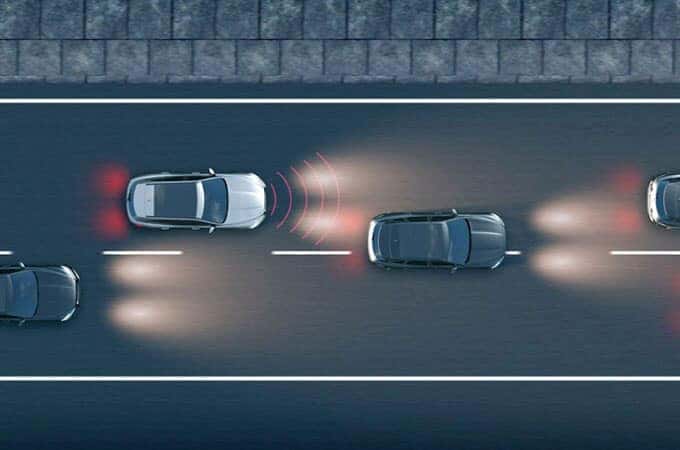 Autonomous Emergency Braking is designed to reduce potential collisions. If you fail to detect a slowing or stopped obstacle in front of you in time, your Jaguar can take corrective action by applying the brakes for you. This technology helps mitigate and reduce the likelihood of a rear-end collision.
Lane Departure Warning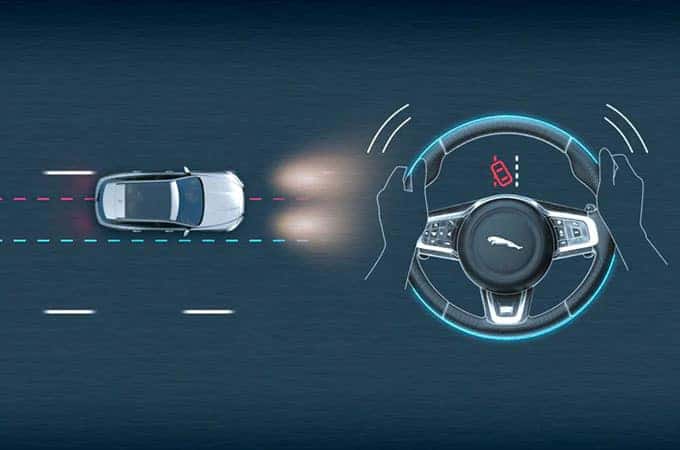 Should your vehicle start to drift out of its intended lane, Lane Departure Warning is able to alert you with a visual notification and a subtle vibration of the steering wheel. Especially helpful on extended road trips, this feature helps you stay safely centered in your lane.
Lane Keep Assist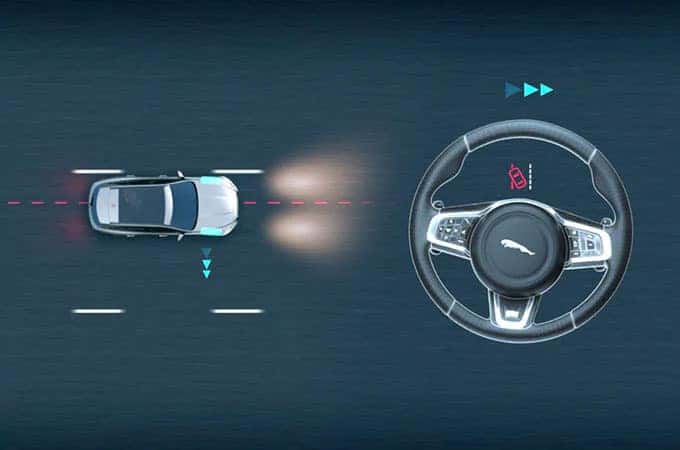 Even if you continue to drift out of your lane, Lane Keep Assist is able to help. This cutting-edge feature can gently guide your Jaguar back into the center of your lane to keep you headed safely in the right direction.
Driver Condition Monitor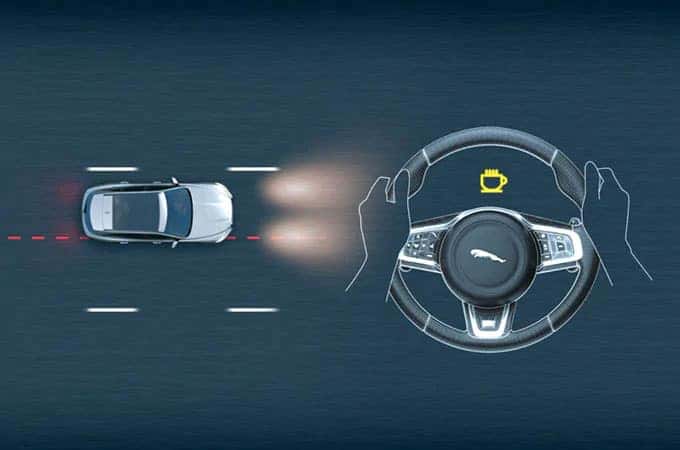 Long road trips can certainly take a toll on your energy levels and awareness. The Driver Condition Monitor routinely checks up on your reaction times and can provide a visual warning should you begin to show signs of fatigue or drowsiness.
Traffic Sign Recognition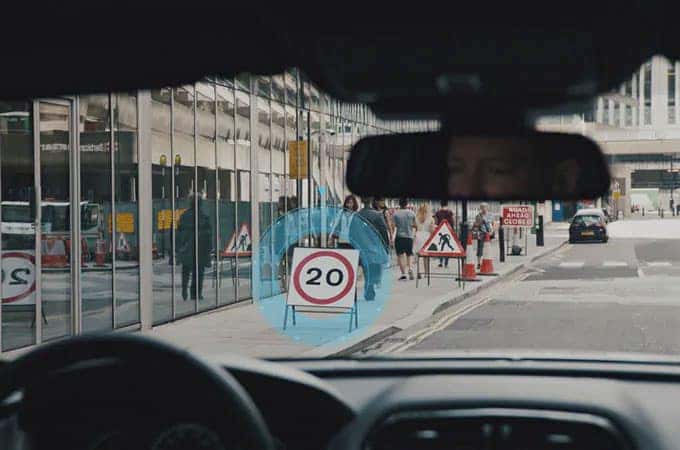 To help you stay informed behind the wheel, this innovative feature displays current speed limits and other road sign information directly on the instrument panel. Even if you're driving on unfamiliar roads, you'll have all the information you need to drive safely.
Adaptive Cruise Control with Queue Assist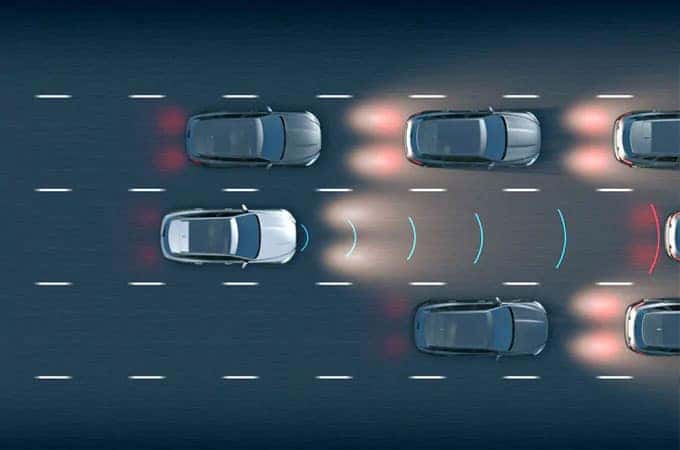 If you find yourself driving in stop-and-go traffic quite often, Adaptive Cruise Control can certainly come in handy. When activated, your Jaguar will have the ability to maintain a preset distance and following speed relative to the vehicle in front. It's even able to slow the vehicle if traffic in front is coming to a stop.
Intelligent Emergency Braking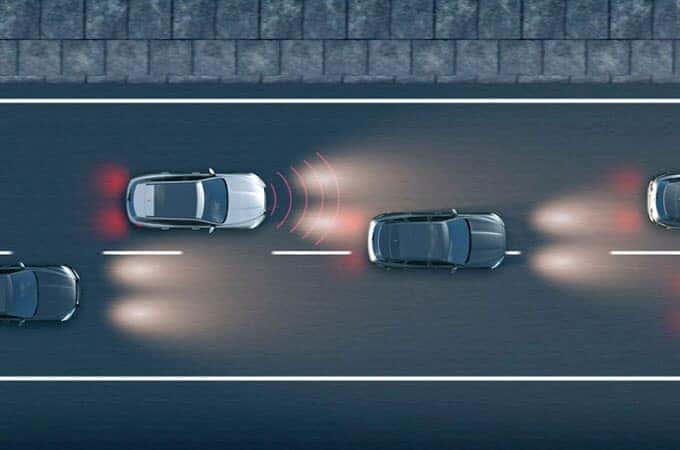 If your Jaguar detects that a frontal collision with another vehicle is imminent, Intelligent Emergency Braking will alert the driver of the danger. Should you fail to react in time, this feature will automatically apply the brakes in an effort to reduce the magnitude of the potential impact.
Blind Spot Monitor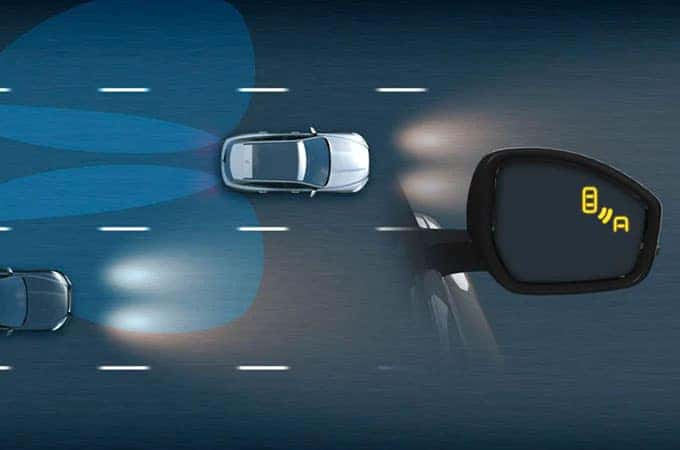 Whether you're on the highway on headed down city streets, danger can often lurk in your blind spot. Fortunately, the Blind Spot Monitor continuously scans for obstacles entering or currently in your blind spot and provides a visual alert to the driver.
Blind Spot Assist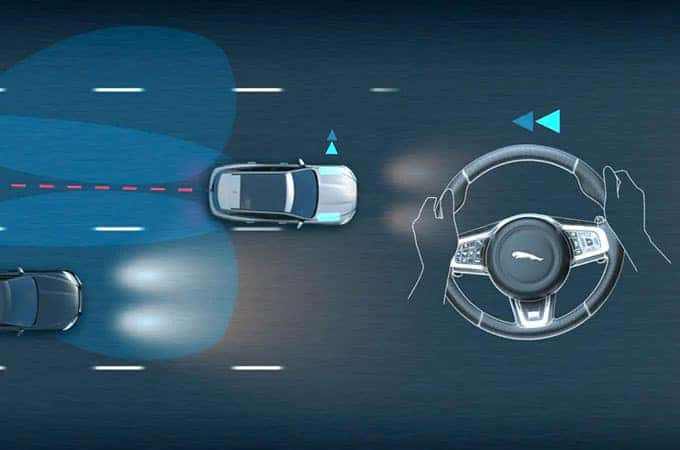 When your Jaguar is equipped with this feature, your vehicle will provide corrective steering to guide your vehicle back to safety if you attempt to change lanes when another vehicle is in your blind spot. This technology helps prevent accidents and acts as an extra set of eyes on the highway.