Jaguar Interior Overview

Jaguar has become the iconic marque that it is by building vehicles that perform a tough balancing act. The brand has a long history in motorsports, building fast cars that can handle torturous endurance racing. Yet they are also famous for luxury, and cars that offer supremely comfortable rides. Design that is at once cutting edge, but steeped in tradition. It is this blend of modern and traditional that keeps people coming back to Jaguar, and it is in the interior of their vehicles that we see just how dedicated Jaguar is to this idea. Here we will take a look at what Jaguar interiors have to offer, and just what makes them so special.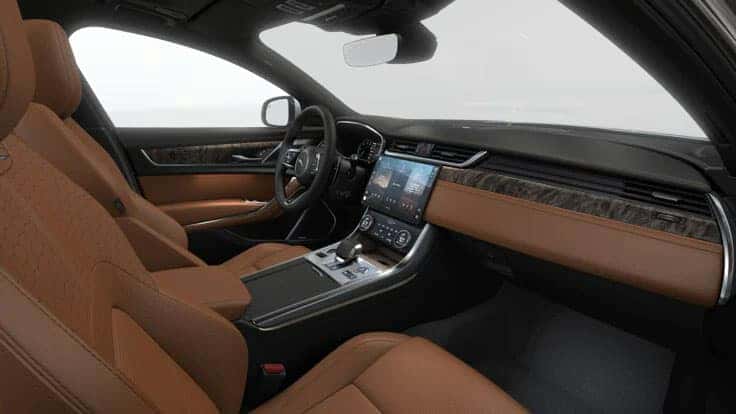 Traditional Luxury
Wood and chrome accents, genuine leather upholstery, these are the kinds of things that come to mind when thinking about the interior of a British luxury car. Jaguar is a big part of the reason why you think that, and these are elements that you will still find in all of the newest Jaguar vehicles. Depending on which vehicle you select, you'll have a choice of DouLeather or Windsor leather, with diamond stitching as an available option on some models. There are burled ash accents, and the leather on the drive selector has cricket ball stitching, a classically British touch that also gives you a better grip.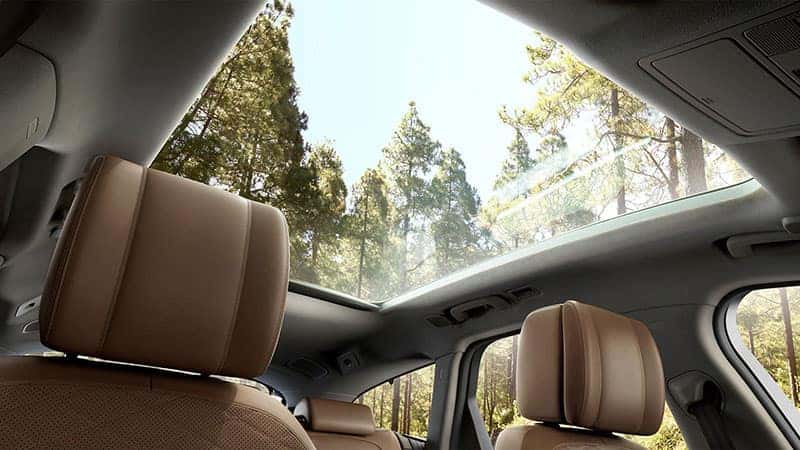 Evolved Elements
While Jaguar is in touch with its heritage, nobody wants a car that feels stuffy and old-fashioned. That's why modern luxury elements are seamlessly blended in to Jaguar interiors. Elements that include things like a panoramic sunroof, or a class-leading Meridian™ sound system. LED ambient lighting will softly bathe your interior in a choice of different colors. The leather on the seats is perforated for breathability, and there is both heating and cooling available for them, as well as 14-way power adjustments.
The glass is acoustically laminated, making the interior quieter than you'll find in competing brands. There is also Nanoe™ ionization technology to filter out dust, pollen, and other allergens. Further improving air quality is cabin pre-conditioning, which can be activated remotely to pre-heat or pre-cool your interior, so that you can step into a vehicle that is just the right temperature.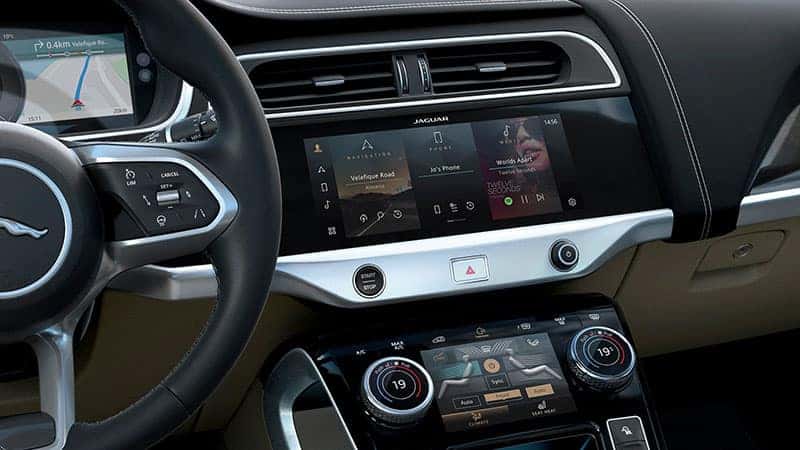 Connected Technology
At the heart of Jaguar's infotainment is the Pivi/Pivi Pro system. This system offers a wide range of controls, and in the case of the I-PACE, so many that a second touchscreen was added below the main screen. These screens are bigger than what you'll typically find in the competition, and this makes them easier and clearer to operate. There is an Online Pack offered with Jaguars, which gives you unlimited streaming, weather forecasts, calendar synchronization, and Park and Pay. Of course, there is also wireless Android Auto and Apple CarPlay, as well as wireless charging for your phone.
Experience Jaguar Luxury at Jaguar Easton
The wide range of Jaguar features really need to be experienced in person to fully appreciate them. That's why the team at Jaguar Easton is here to help with any questions you might have, as well as to help you pick out the Jaguar that's right for you.